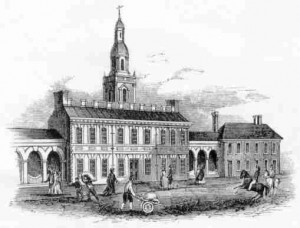 Independence Hall, Philadelphia
Annual Meeting 2017,
Philadelphia, Pennsylvania
The 39th annual meeting of the Society for Historians of the Early American Republic will return to its institutional home in Philadelphia from 20 to 23 July, 2017.
Each conference registrant must purchase his or her tickets individually. Guest tickets for receptions are available.
Please indicate all of the events that you plan to attend. If you have already arranged registration through sponsorship or exhibiting, please contact Robyn Davis at robyn.davis@millersville.edu to register for any additional events.
All prices include 4% TicketLeap and PayPal processing fees.
On-site registration will include $30 late fee.
Members $78
Students $52
K-12 Teachers $52
Independent Scholars $52
Public History Professionals $52
Non-Members $115
(inclusive of online transaction fee)
On-site registration supplement $30
Accommodations:
A block of rooms has been reserved at the DoubleTree Hotel, 237 South Broad Street, located in the heart of the Theatre District on the Avenue of the Arts.  Rates are $159/single or double, $169/triple, and $179/quadruple, and are valid for up to three days before and three days after the SHEAR conference, based on availability.  The hotel's amenities include 18-hour room service, complimentary fitness center, walking track, rooftop atrium pool and sun deck.  All conference attendees are responsible for making their own room reservations directly with the DoubleTree Hotel by calling (800) 222-8733 (TREE); please be sure to request the group rate for SHEAR.  More information about the hotel is available at http://doubletree3.hilton.com/en/hotels/pennsylvania/doubletree-by-hilton-hotel-philadelphia-center-city-PHLBLDT/index.html.  The deadline for making reservations at the reduced rate is 14 June 2017.
Getting there:
By Air:  Philadelphia International Airport (PHL) is the closest airport to the conference, served by domestic and international airlines with non-stop flights from more than 130 locations.  Center City is 7 miles from PHL and can be reached by taxi, public transit, and shuttles and shared rides.
Taxi – trips between the airport and downtown cost a flat fee of $28.50 (before tip) each way.
Public transit – SEPTA trains run every 30 minutes from 4:20 am to 11:40 pm (to airport) and 5:07 am to 12:30 am (from airport). The closest station to the conference hotel is Suburban Station at 17th and JRK Boulevard (5 blocks north and 2 blocks west of the hotel, an easy 10-minute walk).  One-way, on-board, cash only fare is $8.00.
Shuttle – authorized transportation providers for Center City are can be found at http://www.phl.org/Pages/passengerinfo/transportationservices/shuttlesLimousines.aspx
By Train:  Philadelphia's 30th Street Station can be reached by local, regional, and national rail services.  The conference hotel is a short taxi ride from the station, or about a 25-minute walk.  The taxi stand is outside the station's east exit (facing downtown).  If walking, take the east exit, turn right, go three blocks south to Walnut Street, then turn left and proceed east down Walnut.  Cross Broad Street and then turn right and walk one block to Locust Street.  The hotel is located at the intersection of Broad and Locust.
For information about schedules and pricing, please contact
By Car:
Philadelphia is located approximately two hours south of New York City and two hours north of Washington D.C.
From Philadelphia International Airport: Take I-95 North to Exit 17 (PA-611 North/ Broad Street Exit). Continue North on Broad Street for approximately 3 miles. The hotel is located on the right side, one block past Spruce Street at the corner of Broad and Locust Streets.
From Baltimore, Washington and points South: Take I-95 North past the Philadelphia Intl. Airport to Exit 17 (PA-611 North/ Broad Street Exit).  Take Broad Street North and follow Broad Street for about 3 miles. The hotel is on the corner of Broad and Locust Streets.
From New York, New Jersey and points Northeast: Take NJ Turnpike South to exit 4 (Philadelphia/Camden Exit). Take 73 North to 38 West. Follow signs to The Benjamin Franklin Bridge.  Once over the bridge follow signs for 676 West. Take 676 West to the Broad Street / Central Philadelphia Exit onto 15th Street heading South. Take 15th Street (approx 7 blocks) and make a left turn onto Locust Street. Take Locust one block to Broad Street.  The hotel is located directly in front of you at the corner of Broad and Locust Streets.
Harrisburg, Hershey and points West: Take Pennsylvania Turnpike East to exit 24 (Valley Forge). Get onto 76 E following signs to Central Philadelphia. Take Vine St. (I-676) to Broad St. exit and make a right onto 15th St. Follow 15th St. to Locust, then turn left onto Locust. Go 1 block to Broad St. and the hotel is on the corner.
Parking:  Self-parking in a covered lot with in and out privileges is available at the DoubleTree for $28.00 per night.
By Intercity Bus:
The Philadelphia Greyhound Bus Terminal at 1001 Filbert Street, (215) 931-4075 is served by Greyhound https://www.greyhound.com and Peter Pan Bus Lines https://peterpanbus.com.
As of this writing, Megabus also serves Philadelphia 30th Street Station from a variety of cities along the eastern corridor.  http://us.megabus.com