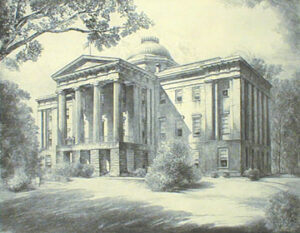 Old State Capital, Raleigh
Annual Meeting 
16-19 July 2015, Raleigh, North Carolina
The 37th annual meeting of the Society for Historians for the Early American Republic will meet Sheraton Raleigh Hotel from July 16 to 19, 2015 in Raleigh, North Carolina. Over the years, SHEAR has developed a reputation for welcoming all scholars and history practitioners to its annual meetings. We gather with old friends and new, discuss ideas and share resources, and inspire each other. Our programs—from panels to plenary to presidential address—are created with attention to quality and variety. We have something for everyone! Our 2014 meeting in Philadelphia was our largest ever, and we take this as a sign that we are doing something well. So please plan to join us in 2015.
Pre-registration is now closed. You may register on-site when you arrive in Raleigh. We accept cash and check only for on-site registration.
SHEAR 2015 Program
We no longer mail out the conference program in advance. Printed copies of the program will be available at check-in at the conference. You may access the schedule of panels through this PDF.
More thorough information about the conference program is available through CrowdCompass as a website or a mobile app. Click https://event.crowdcompass.com/shear to explore the conference website, which provides instant access to:
The full event schedule
Travel, hotel, and registration information
Maps to all conference locations
Social sharing on Facebook and Twitter
Info about exhibitors and sponsors
Notifications of important updates
And the ability to organize all of this to meet your personal needs and schedule!
The same information is available via the mobile app, which is ready to download on your iPhone, iPad, or Android. Just visit https://crowd.cc/s/5h0M from your device and install Crowd Compass on your phone. Once installed, just scan the conference list until you find the SHEAR conference and click on it. Apple and Android users can also search for "Crowd Compass" in the iTunes store or Play store, and click on the SHEAR conference.
Questions
If you have questions about the conference, please feel free to contact the SHEAR business office at (215) 746-5393 or at info@shear.org, or consult national conference coordinator Craig Friend at craig_friend@ncsu.edu.