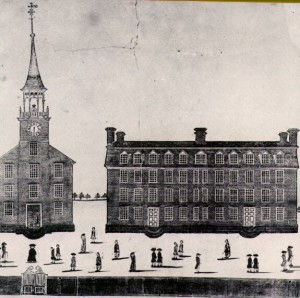 Annual Meeting 2016,
New Haven, Connecticut
The 38th annual meeting of the Society for Historians of the Early American Republic is scheduled to be held July 21-24, 2016 in New Haven.
The meeting will be held at the Omni New Haven.
Call for Papers
The 38th annual meeting of the Society for Historians of the Early American Republic will convene July 21-24, 2016, in New Haven, Connecticut.
The Program Committee invites proposals for sessions and papers exploring the history and culture of the early American republic, together with its northern and southern borderlands and transnational connections, c. 1776-1861. We welcome:
new scholarship in African American and Native American history
work informed by new methodologies and approaches
submissions on pedagogy, public history, and the digital humanities
scholars new to SHEAR and from outside traditional boundaries of the field
non-traditional panels, such as those with pre-circulated papers that encourage audience participation, roundtables that assess the state of debate on a topic, and pecha-kucha
The Committee will consider proposals for individual papers and for full sessions, with a preference for complete panels; we urge individuals to use venues like H-SHEAR and Twitter (#SHEAR16) to locate participants for a full session. Any scholar interested in serving as a session chair or commentator should submit a one-page c.v. Please note that all program participants will be required to register for the conference.
All submissions should be electronic. Please include the following information in a word document or pdf labelled with the first initial and surname of the contact person, e.g., "JSmith2016.docx." This single document should contain:
Panel title & short, one paragraph description.
Proposals for each paper (no more than 200 words each).
Single-page c.v. for each participant. Panels of three or fewer papers must have two commentators, and cannot have two participants from the same institution or an advisor/grad student combination.
Indication of any needs for ADA accommodation or audio-visual services. A/V requests can be honored only if technology is integral to presentation. Requests made after proposal submission may not be accommodated.
Email addresses for designated contact person and each participant.
The deadline for submissions is December 1, 2015. Please submit your proposals by email to Leslie Cutler at lcutler@willamette.edu with SHEAR2016 in the subject line.
Program Committee:
Seth Cotlar, Willamette University, co-chair
Carolyn Eastman, Virginia Commonwealth University, co-chair
Joseph Adelman, Framingham State University
Corey Capers, Independent Scholar
Matthew Dennis, University of Oregon
Douglas Egerton, Le Moyne College
Leigh Fought, Le Moyne College
Jay Gitlin, Yale University
Aston Gonzalez, Salisbury University
Annette Gordon-Reed, Harvard University
Kate Haulman, American University
Ron Johnson, Texas State University
Jen Manion, Connecticut College
Sarah Pearsall, Cambridge University
Questions
If you have questions about the conference, please feel free to contact the SHEAR business office at (215) 746-5393 or at info@shear.org, or consult national conference coordinator Robyn Davis at robyn.davis@millersville.edu.