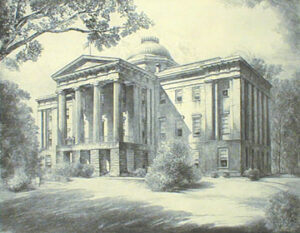 Old State Capital, Raleigh
Annual Meeting 
16-19 July 2015, Raleigh, North Carolina
The 37th annual meeting of the Society for Historians for the Early American Republic will meet Sheraton Raleigh Hotel from July 16 to 19, 2015 in Raleigh, North Carolina. Over the years, SHEAR has developed a reputation for welcoming all scholars and history practitioners to its annual meetings. We gather with old friends and new, discuss ideas and share resources, and inspire each other. Our programs—from panels to plenary to presidential address—are created with attention to quality and variety. We have something for everyone! Our 2014 meeting in Philadelphia was our largest ever, and we take this as a sign that we are doing something well. So please plan to join us in 2015.
Sponsoring, Advertising, & Exhibiting
In July 2015, the Society for Historians of the Early American Republic will meet in Raleigh, North Carolina for our 37th annual meeting. Our conference provides an opportunity for you to promote and market your institution. For presses, it is also an ideal climate in which to meet with potential authors and solicit new manuscripts. There are three ways in which you might participate: sponsoring, advertising, and exhibiting.
Questions
If you have questions about the conference, please feel free to contact the SHEAR business office at (215) 746-5393 or at info@shear.org, or consult national conference coordinator Craig Friend at craig_friend@ncsu.edu.